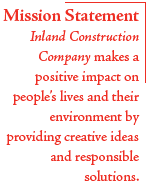 We practice the principles on which we were founded - honesty, integrity, loyalty and a relentless pursuit of perfection. We build it right the first time. It's the only way we know how.
Superior craftsmanship and personal service are the added values that customers can count on from Inland.
Our goal is simple: We find a way to give you what you want, with no change orders. That's why our change order percentage is a mere fraction of the industry average.
We walk the talk when it comes to safety.